Featured Articles
The First Time I Ever Saw Your Face...
by Nikki Esquivel
For my younger readers, let me explain that the title of this blog post was taken from a Roberta Flack song of the 70's. It's a song that romanticized the first time a woman laid eyes on the man she loves. It's a song that was popular when I was a small child and although I could sing every word, it held no meaning in my own seven-year-old mind. Even as a young adult, I can not honestly say that seeing my husband for the first time (across a crowded sports bar) was love at first sight. It may have been "lust" at first sight and certainly the physical attraction made my stomach flip-flop but "love at first sight" never existed for me until my children arrived.

In 1994, I was a young special ed. teacher, a newly-married woman and I gave birth to the most perfect little boy I had ever seen. I still recall the doctor holding my son up after an easy labor and I immediately recognized him. We did not know the gender of our first child officially but I knew he would be a boy and I knew his face from day one. I was immediately enamored of this gift that God had given us. Love at first sight.

Just two short years later, an ultrasound revealed that we were to give birth to a daughter. After the miracle of a son, I could not believe my good fortune to have the chance to mother a daughter. On December 26, 1996 I gave birth (with NO anesthesia, thank you) to my amazing little girl. She was a vision of loveliness and I recall seeing a little mole on her cheek and thinking "if they try to switch babies on me, I'll know my baby is the one with this tiny spot". She looked 100% Asian. Instant love.


In 2005, our little family of four traveled across the world to a little area in the Philippines called Silang, Cavite. We entered Chosen Children Village and saw our precious Kyle for the first time. He was sitting at a wooden table with a sippy cup of water. He was waiting for us. I had seen him in pictures and he was cute but in person, he was PERFECT. At almost 4 years old, he was swimming in size 2T clothing and he was still diapered. He held in his hand a photo album I had sent months earlier and he looked from the book to his new family and back to the book again. There was a flicker of recognition and a faint smile. Again, I loved him on the spot. No questions asked.

Just one year later, our lives took a drastic turn as we adopted Lemuel after his two disrupted placements. When we met him for the first time he was 8, highly medicated and in a
psyche hospital. Just knowing his history made my heart ache. When I saw him for the first time, I suffered just thinking of all he had been through. With all the confusing emotions pressing against my heart, I know a seed of love was planted on that first day. He was fragile and needed us. That seed would blossom slowly but I knew it was there.

Almost exactly a year ago (March 8, 2010), I sat at my brother's kitchen table with this very computer in front of me waiting for my "skype" to ring. My daughter, Lemuel and my husband had gone to the Philippines without me to bring Ezekiel home. When the tone sounded and I finally saw Ezekiel on the screen, I began to cry and say "my baby, my baby". He was tiny and beautiful. His Down Syndrome only added to his charm and I was, once again, able to honestly say "I love you" to yet another person I had only just met!

I don't know how the first encounter with our newest son will play out. As a young man who is neither a baby nor a delayed child, it will be a story of it's own. His most recent evaluation lists him as being "shy and withdrawn". I am prepared for this love to take time but if God sees fit to plant a tree rather than a seed in us, I will be grateful.

I write this post today for two reasons. First, it's a precious stroll down memory lane for me and as we get closer to meeting another member of our family, I find myself gleaning comfort from all that God has done in the past. I use this blog as a sort of altar of praise and a tribute to a Heavenly Father who always does more than we ask or imagine.
Second, I share my "love at first sight" encounters because my friends are meeting their son for the first time in the Philippines today. They are meeting a little 4 year old boy who was our Ezekiel's crib mate and best friend at Gentle Hands. I prayed for this little boy from the moment I read Ezekiel's paperwork, which made mention of his "best friend who is always with him". I pray that the new parents are
falling head over heels right this very moment and that the little boy feels nothing but safety and love in their arms.
My friendship with this new mom is going to a deeper level, no doubt, as we become kindreds through the experience of adoption.
All who are reading please offer up a prayer for the formation of this brand-new family. Our Father hears, He knows, He cares and He is always good!


---
Children Are a Gift From the Lord!
by Jamie Coleman
Everyone who believes that Jesus is the Christ is born of God, and everyone who loves the father loves his children as well. 1John 5:6

We are CHASK prayer warriors (unofficially) and an adoptive family forever connected to this program. CHASK works tirelessly advocating for families that are in need. They advocate for families whose burden is simply more than they can bear, and who need someone to come along side them during one of the toughest decisions of their lives.; to parent or let someone else parent their child.

Some of these kids are being re-homed from a failed adoption, some are still in utero and their parents choose life for them instead of abortion. Some of them were born with special needs after thinking everything was going to be just perfect with their little bundle of joy. No two situations seem to be the same, but the hearts of these parents are breaking and longing to be loved, and accepted for their choice of life for their child. They need to be reminded that God loves them through this situation!
The bible says God will never give us more than we can handle, but it also says as Christians we are to help carry one another's burdens.

Carry each others burdens and in this way you will fulfill the law of Christ.
Galations 6:3

When I read the stories and pray for the families. I know God has a purpose and a plan for every
single one of these kiddo's. A perfect plan just waiting to unfold! And often times these families are needing to not be judged for their choice of giving their child up for adoption (let me remind you adoption is a gift of love, that only by his grace are we saved - we all were once orphans -) but to be shown the love of Christ, as we as Christians help carry their burden.
One family's burden is anothers blessing!

We are Jim and Jamie Coleman. We came across CHASK after our 2 year old, whom we adopted from the foster care system, was born with Cerebral Palsy. When we were getting close to the finalization of his adoption, we realized we loved taking care of special needs kids, and wanted to continue doing it (knowing that many of them in the foster care system are never adopted). We went to our local Department of Human Services and asked if we could continue doing more...we wanted another special needs child in our home. Up to this point we had not realized the value or potential of a disabled child.

Unfortunately our local department had not had much experience placing kids of this nature and asked us to consider taking a break before taking on any more children, considering children with special needs (in their eyes) was a huge liability and burden (please note, we NEVER felt this way about our little guy).

We paused and considered their request, but knew in our hearts we were made to help kids with special needs!!! God had given us the tools to add these kids into our home seamlessly. It was a gift, and we knew we had to keep helping little ones that would otherwise not have a home! Right after our adoption was finalized with our 2 year old we closed our home to Human Services and became very serious about helping a little girl we had come across on the CHASK website just a month earlier.

One day we got a phone call from the birth mom (whom we had e-mailed letting her know we were praying for her and would be there for her in whatever capacity she needed us over the course of her decision making process). We had a great conversation. The conversation showed the love that she and her husband had for their little girl. It radiated in the conversation. She only wanted the BEST for her! She was diligent in making sure that every decision they made was in the best interest of her baby. We let her know we were praying for her and her family during this time and she told us she had several profiles to sort through. We told her we would support them in whatever way possible. We knew what we were getting into with considering raising their baby, but we also were willing to support them in raising her as well. As this unfolded it was still in their hearts to place this tiny peanut with an adoptive family.

Like we have said before, one family's burden is another's blessing. After hours / days / weeks of consideration, they wanted their baby girl to come to us. We consulted adoption agencies, spoke with attorneys, and perused every angle to bring the baby girl (now only 2 months old) to Colorado legally. It took a few weeks, but we RAN through the legal requirements set by both states, (every state has different adoption laws look into this before considering inquiring on a child) and the baby girl was finally here.

It was an emotional ride, but something about it felt right. God's hand was all over the situation. He put all the right people in all the right places at just the right time. We truly believe that this is the case for every child that is needing a home on CHASK. He has a plan for every one of them. He had a plan for our baby girl, and he has a plan for your birth child or child that you are considering adopting!
The most impossible situation can be doable when you are walking in Gods will for your life.
Our baby girl has had a multitude of diagnoses including: 1q43-44 Chromosome deletion, Micro-lissencephaly, Micrognathia, Eczema, repaired Imperforated Anus and Calcanial Valgus deformities of her feet.
But this precious pumpkin couldn't be happier!
We have an open adoption with her birth family, sending pictures and talking via e-mail or on the phone regularly. Although adoption is one of the hardest decisions a birth family could ever make, we are thankful we had the opportunity to come along side this birth family and adopt this little girl. It has turned into a blessing for both our families. If you would like to ask questions about open adoption / closed adoption (we have done both) please don't hesitate to e-mail us. We would love to be praying for your family during this process.....whether you are the birth family or the adoptive family.
jjiecoleman@yahoo.com

Blessings on your journey!
Love,
The Colemans
---
Why Do You Homeschool?
by Kim Green
Why do you homeschool? I get that question a lot- especially when people find out that we have adopted 8 kids- ages 8 and under! Why would I put myself through homeschooling them? … they wonder.
The Bible says:

"See to it that no one takes you captive through hollow and deceptive philosophy, which depends on human tradition and the basic principles of this world rather than on Christ." (Colossians 2:8)

"Do not conform any longer to the pattern of this world, but be transformed by the renewing of your mind. Then you will be able to test and approve what God's will is—his good, pleasing and perfect will." (Romans 12:2)

"Do not be deceived: "Bad company corrupts good morals." (I Cor. 15:33)

"Timothy, guard what has been entrusted to your care. Turn away from godless chatter and the opposing ideas of what is falsely called knowledge, which some have professed and in so doing have wandered from the faith. Grace be with you." (1 Timothy 6:20-21)

When making educational choices for our kids, we've looked at these verses and felt that to put our kids in public school was clearly not the right thing to do. They are still in training.... Many parents will give the 'salt and light' argument as to why they send their kids to public school. However, research shows that often times it's "reverse evangelism" that happens (Nehemiah Institute and Barna Group) . It's interesting that while the research says that 70-88% of "Christian teens" leave the church by the 2nd year of college--- 94% of homeschooled children stay in the faith. Mmmm... something speaks volumes there to me. Many parents say that they give their kids moral training at home but then leave the academics to the school system- by doing this, you are denying your children a Biblical worldview. The argument "but I'm not that smart" doesn't really hold up either because all you really have to do is stay a week ahead of them! :). I've also heard "I can't stand my kids that long"... mmm... maybe there is something that needs to be fixed there then?!
Our culture is driven by a "get a good education so you can get a good job" philosophy. This philosophy only breeds materialism and a sense of being able to work hard and attain success on your own. Trusting in God is not part of the equation- again- a worldview. But the Bible says to "seek first the kingdom of heaven and THEN all these things will be added." (emphasis mine). Somewhere along the line, we've lost the Biblical model for bringing up our kids found in Deut. 6: "Listen, O Israel! The Lord is our God, the Lord alone. And you must love the Lord your God with all your heart, all your soul, and all your strength. And you must commit yourselves wholeheartedly to these commands that I am giving you today. Repeat them again and again to your children. Talk about them when you are at home and when you are on the road, when you are going to bed and when you are getting up. Tie them to your hands and wear them on your forehead as reminders. Write them on the doorposts of your house and on your gates."
Educating our kids is a 24/7 job the Bible says. Our ultimate goal for our kids should be to develop their character through the Word of God, and of course academics will follow… even flow naturally out of that foundation. But to do that, it requires sacrifice and discipline on our part as parents.

So what are some ways we (the Green family) develop character in our eight children?

1- Daily family worship. We not only start out our school day in the Word of God, we end it there as well. The beginning of our school day starts with worship, prayer, memorizing scripture, and memorizing questions and answers out of a catechism (geared towards kids). We end our day with Daddy leading family devotions, discussion time, and prayer right before they go to bed. After this family worship time, my husband takes a minute with each kid to hug them, tell them he's proud of them and loves them.
2- First time obedience is expected of our children. When we ask them to do something, we expect a "yes mom/dad" and immediate action. By teaching our kids to obey us, we teach them to obey God's Word for us as well.
3- The curriculum we choose. By educating our children at home, we have the distinct advantage of choosing what enters their mind and what lense they filter all other information through.
4- "Words To Live By". We deal with issues of tattling and lying for example with laminated Bible verses that I have hanging in a folder in our kitchen. Verses such as "Keep what you know to yourself, and you are safe; talk too much and you are done for." (Prov 13:3) … are all easily rattled off our kids lips when I give them "that look" after they've tattled. By applying the Word of God directly to their behavior, they really can't argue with "my rules" can they? 
5- In our time out corner, there is a laminated sheet of paper with Bible verses about how to treat one another. After they've "done their time", the appropriate verse/s are read with them before they go and restore the relationship that they damaged by their behavior.

Those are just a few of the ways we've tried to incorporate teaching our kids the character traits we want them to leave our house with. In addition, there are other things like daily chores, servant opportunities, and practicing the behavior we expect.


Some additional resources that
you may want to look at:

*Parenting With Scripture: A Topical Guide For Teachable Moments by Karen Durbin
* Five Minute Devotions for Children: Celebrating God's World As a Family by Pamela Kennedy and Amy Wummer
* www.momsnotes.com
*Children's Book of Virtues by William J. Bennett and Michael Hague
*Our 24 Family Ways by Sally Clarkson
*Hero Tales by Dave and Neta Jackson

---
What Can Be Gained Through Heartache?
by Lynnette Kraft
Losing one child is enough to knock anyone off of their rocker, but three?
Lynnette details the story of how the Lord has given, taken away and carried them through the sorrows and joys.
It seems like a lifetime ago, but there was a time when I was a self-centered, materialistic, newlywed. I thought too often of my career, my clothes, my future dream home, and all the other things in life that don't give a person true joy. I didn't know Jesus and I didn't realize just what kind of life I was missing out on. I was lost and on my way to an unhappy marriage and ultimately an unfulfilling life.
God began to intervene. In January of 1990, I found out I was pregnant. It wasn't a planned pregnancy, in fact I was still on the birth control pill, but God was beginning to do a work in our lives and his plans would supersede ours. My husband and I had talked about having children, but we only discussed what we thought would be the most attractive blend of our features… his green eyes with my dark hair seemed like the most beautiful combination for our future child. I think we thought we could place our order.
It was while I was carrying our first son that my husband and I both began to think about our relationships with God. We didn't deny God. We also knew that Jesus died for the salvation of all those that believed on him. However, we were fickle in our faith. It was merely head knowledge and hadn't penetrated our hearts. We discussed what we would teach our son about God and decided we needed to know more, so we began to go to church.
After attending my childhood church for a few weeks and soaking in the word of God, we both became excited about learning more and we both received Jesus as our Lord and Savior. After Jared was born, I became a stay at home mommy and I loved it! God was continuing to grow us up in him and we were excited about growing and serving, but he had much more to teach us!
When Jared was almost a year old we began to think about adding another baby to our family; a brother or sister for Jared. It didn't take long for me to be pregnant with our second baby. The pregnancy was very different and I had a feeling from very early on that something wasn't right, although I couldn't say what. A sonogram at 6 months revealed that our baby had a neural tube defect called anencephaly. We didn't know what that was, but we were told that our baby would not survive. We were devastated, but we knew where to turn. Kyle and I clung to one another and leaned heavily on God and his word.
We had learned some scripture and felt that we were beginning to gain new insight as to 'who' our Savior was and what his character was like, but during the three months of carrying a baby that we knew would die, we began to seek comfort and understanding with more fervor. We opened the word of God, hurting, but also excited to see what new insight we would gain. It was a somber but exhilarating time in our lives.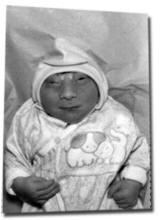 When Samuel was born, we shared him with our family and friends. We knew his time on earth would be severely limited and we wanted everybody to have the opportunity to meet this child that God would very soon take to be with him. Samuel touched the lives of many people and when he was just thirteen days old, he left us and entered into God's presence.
We missed our precious baby, but we thanked God for a life that taught us to depend on the God we were learning to adore. We praised God for teaching us to value life and family in a way we hadn't before (Psalm 128:3). We delighted in God for showing us that we are all fearfully and wonderfully made and that before he placed us in the womb, he knew us (Psalm 139:13-18). Samuel was no mistake. He was planned by a sovereign God that uses all situations for our good when we love him (Roman 8:28).
After Samuel died, God blessed us just eleven months later with a healthy and beautiful daughter, Abigail. We had made the decision to let God plan our family since he had proven to us, through his word and our personal experience, that his ways were better than ours. (Psalm 127:1) We had a wonderful time with our baby girl and were very content with life. But God was ready to do some more work to mold us into the vessels that he wanted us to be.
When Abigail was eleven months old, we discovered I was carrying our fourth child. The sonogram revealed a healthy boy, but the night that Josiah was born, it was evident that something was wrong with our nearly nine pound baby. It was obvious that Josiah didn't have anencephaly and that gave us immediate comfort, but after his initial cry and taking in his first breath, Josiah was not able to breathe. He was immediately taken away to NICU. My husband, Kyle, followed. I didn't worry too much because there was nothing visibly wrong with him. I comforted myself by thinking that he just had some fluid in his lungs, but hours later, he was still in NICU hooked up to a ventilator. We hadn't been told yet what was wrong.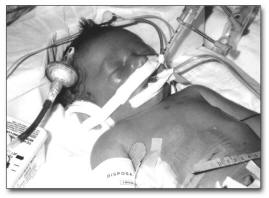 Nearly five hours later a doctor finally came in and told us what we didn't want to hear, "Your baby is very sick." Kyle listened to the doctor while I just stared out the window in disbelief. How could we be dealing with yet another problem unrelated to Samuel's? It just didn't make sense. We were told that Josiah had a diaphragmatic hernia and may or may not survive. If he did survive, he would most likely live a normal and healthy life.
Josiah had good days and bad, but after just five days, God took him to heaven. We would have to suffer heartache again. My heart was heavy, but my spirit told me that God would not leave us or forsake us. Just as he had helped us through our previous loss, he would also help us through this.
Because it wasn't a pre-diagnosed problem, I was less prepared and the days following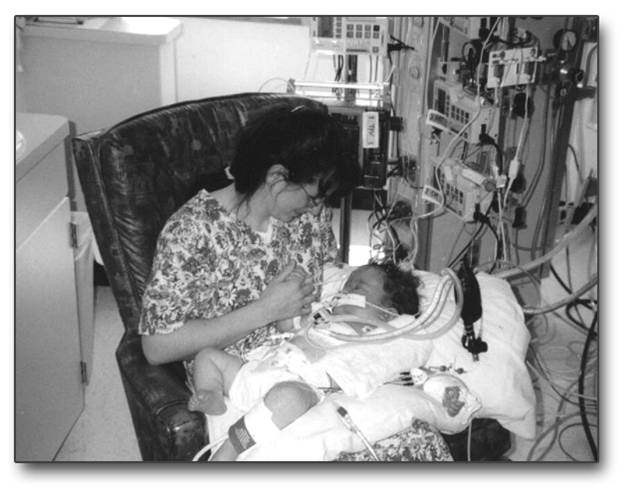 Josiah's death were difficult. I felt a deep sadness, but that all began to change when a friend of mine came over one day and turned my thoughts around and made me view my trial with a new perspective. She told me to picture the Lord asking me if I was willing to accept a new trial for his glory. Was I willing to hurt in order to draw eyes and hearts toward Jesus? Was I willing to do God's work and suffer because he needed me to? When I looked at it that way, it gave me strength. Rather than feeling like a weak and hurting mommy, I began to feel like an honored soldier; somebody willing to suffer for the better good. It pulled me out of my despair. I would miss Josiah and look forward to being with him again one day, but for now I would carry on and continue to walk alongside my Savior.
That might make a great ending to my story, but the story continues…
After Josiah came my sweet little Cecily. A healthy and very contented little girl! Unique challenges came with her, but not the heartache. Cecily was healthy until she was about nine months old. She came down with something that was never diagnosed, but the symptoms pointed to whooping cough. She would have attacks in the night and would stop breathing. After vomiting very thick and sticky mucous, she would begin to breathe again. It was terribly scary. It took her weeks to recover completely and it was following this illness that she changed. She began to be distant and I felt she began to look right through me. She had been very content as a young baby, but now she just wanted to do her own thing with no boundaries and she disobeyed over and over again. No matter how consistent I was in teaching, training and disciplining, she just didn't seem to learn.
She struggled most between the ages of one and three and made improvement year by year beyond that. She is eleven now and has overcome many of her issues, but continues to be quite challenged in many areas of learning. I've found that a non-accusing, patient and understanding heart is what is needed with her. It helps to realize that her problems in learning and behavior have not been because of rebellion but because of something that she cannot help. I've tried to focus on building in one area at a time rather than too many subjects all at once and this helps her to be successful at something and feel good rather than feel like a failure at everything. We are becoming victorious and things are beginning to click with her. We've used some neurodevelopmental exercises to attempt to trigger things in the brain that were perhaps never "turned on". These have made a difference. I've also discovered that repeating things until they click, and not over stimulating her brain all at once if she's not getting it, are helpful. We can always come back to it! Active, exciting learning times are most beneficial, and daily success is critical. I'm not perfect and admittedly I don't always have patience, but I plan to become victorious over my weakness through much devoted prayer. I know that God will give us both victory!
When Cecily was two years old, another beautiful daughter was added to our family. Anna was diagnosed in the womb with heterotaxy and congenital heart defects, including single ventricle, coarctation of the aorta, total anomalous pulmonary venous return and other related heart problems. When we were given this diagnosis, we couldn't believe it. Yet a third and unrelated problem! While Samuel and Josiah both died shortly after birth, there was more hope for Anna. We were told that with a few surgeries, Anna could survive and do well.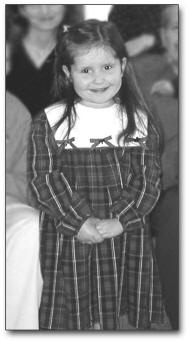 When Anna was just a few hours old she and her daddy flew to Children's Mercy Hospital in Kansas City, MO. My parents took me and our other children to K.C.. Anna had her first 'closed heart' surgery when she was just three days old. It went very well and we returned home when she was ten days old.
We moved to the country when Anna was a baby. We felt that the fresh air would be good for her health. We got cats, a dog, Nubian dairy goats, and chickens. We had a great time and enjoyed our new life with a fragile baby and lots of fresh air and fresh foods to keep the family healthy.
When Anna was nine months old she went in for her first big and scary open heart surgery – the hemi-fontan. This surgery didn't have the same outcome as the first. It seemed to go well, but when the surgeon took the ventilator off of Anna, she went into respiratory arrest and would have died had they not resuscitated her. She barely clung to life for over a week, and when she was not so fragile, another heart catheterization was performed to try to figure out what went wrong. When it was discovered that her veins had become obstructed following the previous surgery, they decided to go back in the following day to repair them. This surgery would be her only hope.
I remember reading the Psalm for that day which was Psalm 21. Referring to God delivering David and giving him strength, Psalm 21:2 says, "Thou hast given him his heart's desire, and hast not withholden the request of his lips". I hoped and prayed that God would give me my heart's desire and would not withhold my request for Anna to come through the surgery well and be able to return home with us. God did just that. Anna did come through her surgery and after three long weeks in the hospital finally got to go back to her home in the country with her brother and two sisters.
The next five years were peaceful. God didn't allow many trials. Our health was good, our home was happy, and two new healthy boys, Silas and Jonas, were added to our home. God had brought us unhealthy babies with every even numbered child in the past (numbers two, four and six), but Jonas was baby number eight and he was healthy. We didn't know if there was any real pattern, but we half expected number eight to have some health issue. He didn't and we were grateful!
Anna's long-term prognosis was unknown. The medical books said that children with heterotaxy and heart defects weren't expected to live very long, but her doctors changed their diagnosis every time they saw her. We were told she could live "two years" to "decades". So, we just determined to not think about it. What is life if you worry through every day? No, we would see Anna in our future. We couldn't survive any other way.
When Anna was a baby, we prayed for her heart problems to go away, but as she got older, we began to pray for God's strength for her and for us, and we quit asking God to take her heart problems away. We wanted to teach Anna to be content with the way that God created her. He knew what he was doing and had a purpose for his design. She needed to know that we loved and adored her just the way she was and that she was not a reject. The term "birth defect" has always bothered me because when we think of something defective, we think of something inadequate or weak. Anna was certainly NOT that! God used her heart problems to make her stronger in many ways, and to help her see her need for him. She was an incredible young lady and truly lacked nothing in character, love or beauty.
Anna grew into a smart, witty and beautiful little girl. She had a huge vocabulary at a very young age. When she was barely two years old, we went to a friend's house for fellowship. Usually Jared or Abigail would unbuckle her car-seat. When I realized she hadn't popped out of her seat I said, "Anna what's taking you?" She said, "I can't get this contwapshun to work"! It was so funny! As she got older she loved to mother her little brothers. When Silas was being ornery she'd firmly say, "Silas John!" She made us laugh often. She was just a huge blessing to each member of the family.
When she was almost six years old, Anna accepted Jesus Christ as her Savior and was baptized by her daddy. In August, Anna's health began to deteriorate. On November 19th, 2004, Anna breathed her last breath at home in her mommy's and daddy's bed. There were signs of a failing heart, but nothing could have prepared us for that day. How can you ever be ready for your precious child to die? You can't. However, in the midst of all the pain, God was faithful! (I Cor. 1:9) I've never felt his presence so strong. I've never felt his love so great. He walked beside each of us along a very sorrowful path. I can tell story after story of things the Lord did to give us hope.
Watching my children suffer heartache was worse than suffering my own heartache. But that is how it is with God, too. He isn't happy about our suffering. He hurts with us and for us. That is why he is ever so near to us through those times. He will not let us hurt without his loving arms around us and without a purpose behind it. He will not let us suffer without hope. He will not leave us comfortless. (John 14:18) I'm so thankful for my heartache, because "I'm confident of this very thing, that he which hath begun a good work in me will perform it until the day of Jesus Christ." (Phil. 1:6)
I've since given birth to another precious and healthy son, Harrison, and I find myself satisfied, completely and utterly satisfied. Why? Because I've lost and I've gained. I've suffered and I've recovered. I've mourned and I've laughed. I've learned to be content. If Harrison would have been born unhealthy, I would have hurt, but because of my trials, I would have been able to endure the affliction with more confidence. I would have known how to survive. Through our suffering we gain patience, experience and hope (Romans 5:4).
Trials and afflictions (that are not sin trials) are not the enemy, they are God's way of teaching us and we should be grateful for the opportunity to learn to serve him and minister to others because of them (II Cor. 1:4). Last year I completed a book that tells our story in more detail. I'm in the process of looking at options for publishing. I think about what my life would be like, had I not experienced these trials. I'm so happy to have a story to tell; a story that can not only help others who are hurting, but a story that reveals God's character through the way he cared for me and my family down our road of challenge, heartache and victory. It's an exciting life to walk with God, a life I'm excited to share with others. I leave you with a couple of my favorite verses: Psalm 119:75 "I know, O LORD, that thy judgments are right, and that thou in faithfulness hast afflicted me." Psalm 119:67 "Before I was afflicted I went astray, but now have I kept thy word." What a privilege to be used of God – even to suffer for his glory!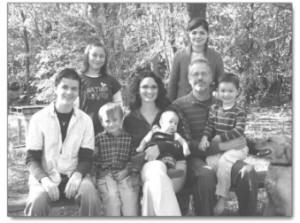 Lynnette Kraft, Sedgwick, KS
growingthruaffliction@yahoo.com

Wife to Kyle and Home-Schooling Mom to:
Jared 17, Abigail 14, Cecily 11, Silas 6, Jonas 4, Harrison 2 months and three children with Jesus (Samuel, Josiah and Anna)


---