Kids & Horses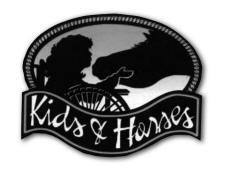 Therapeutic Riding Center
Serving Individuals with Physical and Emotional Disabilities (a non-profit corporation)
NARHA (North American Riding for the Handicapped Association) Premier Accredited.
This educational program offers horsemanship as a means of therapy used to improve coordination and self-esteem. It has benefited those who are faced with blindness, paralysis , cerebral palsy and Down syndrome, autism, emotional issues, amputation and many other impairments.
Kids & Horses is supported by private donations, service clubs, corporate contributions and grants.
Most people working with Kids & Horses are volunteers from local communities. All instructors are certified and have endured serious training through NARHA, a national organization which provides leadership for therapeutic riding centers system wide.
Contact NARHA http://www.narha.org for a center nearest you.

Kids & Horses provides riding to Northern Nevada to Northern California. However, students from any area are welcome.

We can always use help. You can contribute with gifts of time, talent or money. If you are interested in becoming a student, volunteer or benefactor of Kids & Horses, please contact us at:

Kids & Horses
2869 Esaw Street
Minden, NV 89423
(775)-267-1775
kidsnhorses@msn.com
www.kidsandhorses.org