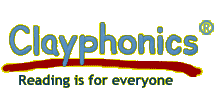 Resource Review by Barbara Brogan
Reading is for Everyone with Clayphonics presents a creative and very effective approach to teaching beginning phonics. Using pictures, actions, and story telling, your child is introduced to the letter sounds of the alphabet in an enjoyable way that allows learning to "just happen." Author Barbara Brogan has developed this multi-sensory method through over 22 years of teaching, and presents it in a clear manner that is easy to follow for parents who are new to teaching.
Each letter is introduced with a short story that cleverly incorporates the sound of the letter being presented. The stories are illustrated with a clay figure superimposed over the letter – hence the name Clayphonics. The clay figure acts as a memory aid (mnemonic) to help the child recall the story and the letter sound. Following the story, an action related to the story and the letter sound is presented, providing yet another aid in remembering.
The stories all center around a family, Maya, Sol, and Baby Zac, and can be presented in whatever order the parent/teacher decides will be best (for those not sure which to present when, suggestions are given). Each lesson is presented in the same way, making it easy for the parent to implement, and predictable for the child who thrives on routine. Daily review of the letter, sound and action becomes part of the teaching routine. No time frame is suggested, rather parents are encouraged to teach to their child's interest level and ability.
Barbara has developed this reading method with ALL beginning readers in mind, including our children with special needs. For more information, see her website at www.clayphonics.com.
Our Experience with Reading is for Everyone with Clayphonics
Our three younger children (8 and has Down syndrome, 5, and 2 1/2) are really enjoying Reading is for Everyone with Clayphonics. The first day we had the book, we started off working on one story/letter (so I thought!!) then went on from there, the kids taking turns picking which story to read next. The next evening at bedtime we realized we had already read through each of the letter stories! So we looked through the book together going over each of the actions to each of the letters, then began re-reading the stories - again in whatever order the children chose. At first I was hesitant to go so quickly through the book, but they were eager so I figured, why not? Reading is for Everyone with Clayphonics has become a favorite with them all, so we do a lot of reviewing as we read it over and over. If they didn't get it the first time through, they will the second, or the third, or the fourth… Just another way of using Reading is for Everyone with Clayphonics.