Resources for the Hearing Impaired
This complied list of resources was taken from the Newsletter for Deaf Homeschool Network, with permission from Marilyn Agenbroad.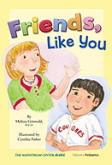 "Friends, Like You"
by Melissa Griswold, M.E.D.
This is an ideal teaching tool for raising awareness about hearing loss and encouraging friendships among young children. The kit includes a 32 page, full-color children's book, an educator's guide and a children's activity book. Additional sets of 30 activity books are sold separately. For more information, go to: www.clarkeschool.org

Deaf Homeschool Network
c/o The Agenbroads
116 Jerome
Silverton, OR 97381 (503) 873-8451
E-mail agie@ncn.com
For homeschooling families with deaf or hard-of-hearing members.
Cued Speech
- Developed by Dr. Orin Cornett at Gaulladet University
This shortened report is taken from Deaf Homeschool Network
January/ February 2,000
Written by Laurene Gallimore
Cued speech is a system that substitutes a visual representation for sounds which cannot be heard by the hearing impaired. In other words, cued speech allows an individual to see, with their eyes, the sounds that their ears cannot hear. The genius of the methodology lies in the fact that Cued Speech provides a full representation, including phonemes, of the spoken language. (It is currently used with over 50 different languages.) Cued Speech, when used on a continuous basis at home, even allows language to be picked up vicariously.
The effective result is a means that the deaf can access grammar, syntax, tense, order, idiom, etc. the full content of the spoken language. Everything that language offers a hearing person, can now be gained by the profoundly deaf. In turn the deaf can learn to speak, read, write, and use the native language of the parents. National Cued Speech Association (NCSA)
c/o Cued Speech Discovery
23970 Heritage Rd.
Cleveland, OH 44122-4008
800- 459-3529 - TTY OK
Creation Science Evangelism in ASL!!
An exciting 12 hr. teaching on Creation, translated in ASL, will keep you entertained and fascinated with the facts of "How man lived to be over 900 years old! How old is the earth? How do dinosaurs fit into the Bible? Are some still alive today? Dr. Dino will astound you with his incredible gift of bringing the complex things of science down to a fourth grade level so everyone can comprehend. This in not your typical "yawn" scientist!
Item #160 A.S.L. Creation Seminar
Series, 5 parts—$80.00
Or, individual parts $17.95 each
(VHS only at this time.)
Creation Science Evangelism
Dr. Kent Hovind
29 Cummings Road
Pensacola, FL 32503
850-479-3466
Deaf Ministries List
Earl and Shirley Wilbers
221 W. Gay St. Harrisonburg, VA 22802
e-mail EEARL2@aol.com
Website: Deaf Ministries List
http://members.aol.com/deaflist/web.html
American Sign Language Stories
Do you know ASL? Do you love ASL stories? Maybe you would like to volunteer with ASL Access. Some are ASL stories, poetry, drama and comedy. We are looking for volunteers - we can't pay! You can work from home. We want volunteers to help us write reviews of ASL videos, Check out the ASL Access website: www.aslaccess.org. or send them an email ASLAccess@aol.com, or call 703.799.4896 (tty) or 703.799.8733 (voice).
In a short interview over e-mail with Marilyn Agenbroad, editor of the e-mail newsletter, Deaf Homeschool Network, she answered two questions we sent.
-What are families dealing with deafness using for curriculum?
I can't give you a good answer on this. I've surveyed our members and there is such a variety in materials used that I can't say any particular curriculum is used more than others. It seems that most people put together a little of this and that, and make adjustments as necessary. For those who are not teaching phonics (like me), most create their own lessons because the only one available is very expensive.
-What methods are folks using to teach phonics? Is it cued speech, lip reading, sign?
In my situation, I don't really teach sign. It's comparable to having young children. You don't directly teach them English, you just communicate. That's how we learn sign. (Of course, at the initial stages, we went to sign classes and watched videos together. But for the children, most of the learning happened by communicating at home.) When we learn new vocabulary, we discuss meaning and practice the sign together (deaf and hearing kids).
Support Group For Deaf Moms Homeschooling
Vanessa Kramer
602 S. West St.
Carlinville, IL 62626-2110
(217) 854-9045 (V/TTY) 10:00AM - 10 P.M. (CST)
e-mail lvkramer@accunet.net
Deaf Teen Quest
4221 Sw 47th Drive
Portland, OR 97221
503-292-9035 (TTY)
matt@dtquest.org
Dawn Sign Press
6130 Nancy Ridge Dr.
San Diego, CA 92121
800-549-5350
Free catalog to see good ASL books and videos for children .
Christian Record Service
Division for the Deaf
444 South 52nd St.
Lincolm, NE 68506
14" by 11" sign language coloring books on Creation, Moses and Jesus available to deaf children for $3.50.
Butte Publications, Inc.
P.O. Box 1328
Hillsboro, OR 97123
mailto:service@buttepublications.com
1-866-312-8883
Lots of excellent materials for teaching deaf students.
Choices in Deafness
2nd Edition Edited by Sue Schwartz, Ph.D.
Provides a variety of basic information and an overview of five communication options.
Woodbine House
6510 Bells Mills Rd.
Bethesda, MD 20817 301-897-3570
Has a good selection of special needs books.
John Tracy Clinic
806 W. Adams Blvd.
Los Angeles, CA 90007-2599
1-800-522-4582
Provides a free correspondence course which teaches both parent and child about communication, listening and speech. The clinic encourages the participating parents to call them as much as needed on the toll free line for advice and encouragement.
Correspondence course focuses on using tactile methods to make the child aware of the following:
sounds in his environment - •things that vibrate are making noise ie piano, washing machine, dishwasher..
•that we can generate noise (such as a door bell)
•that voice generates sound
•early concepts such as "on" vs "off", "in" vs. "out".
They are a source of ideas as to things to do to help parents and children cope with deafness.
PRO Ed, Inc.
8700 Shoal Creek Blvd.
Austin, TX 78757-6897
1-800-897-3202
Carries an abundance of educational resources including speech, language and hearing resources, including Reading Milestones, a linguistically -controlled basal reader series that starts with simple English and gradually increases in difficulty to the 4-5th grade level. Designed for students who are "hearing impaired, language delayed and learning disabled." Folks call it the biggest and the best basal reading program for deaf/HOH children. $149.95
SPICE - Speech Perception Instructional Curriculum and Evaluation - a guide for developing listening skills in severely and profoundly deaf children who use hearing aids or cholear implants. Incorporates Ling's theory,
Central Institute for the Deaf - Oral and Outreach Center
4560 Clayton Avenue
St. Louis, MO 63110
314-977-0133
FAX 314-977-0016
The entire kit is $350.00 plus 8% S/H. The program is usable with only the manual. The manual is only $35.00 plus $3.00 for shipping.
Edmark
1-800-362-2890
Carries another popular basal reading curriculum, designed for students who have not been successful with other reading methods. Stories are not that hot, but can help getting children started.
Help In Processing Spoken Language
Fast Forward Training Program is an intensive CD-ROM and internet training program that helps children who have problems making reliable distinctions among speech sounds.
Scientific Learning Corporation
1995 University Ave. Suite 400
Berkeley, CA 94704
510-665-9700
A beginning ASL course at www.lifeprint.com
or practice your finger spelling www.where.com/scott.net/asl/
Hundreds of Teaching Resources
for Educational Excellence
—-If you like quick access to hundreds of teaching and learning resources across the federal government, explore the Department of Ed.'s web site
Teachables
Speech Therapist
Gayle Wylie
Harrisonburg, VA
1-540-433-8522
For $100.00 you can get a semester's worth of lesson plans in speech therapy that you can do with your child at home along with all the counsel over the phone that you may need along the way.
Captioned Media Program
National Association
of the Deaf
1447 E. Main Street
Spartanburg, SC 29307
800-237-6213 800-237-6819 TTY
www.cfv.org or send mail email info@cfv.org
An excellent learning tool for parents with auditory language impaired, hearing impaired and deaf students.
Thousands of education and general interest videos that are easy to use and require only a VCR and any TV. Closed caption decoder not required. Lesson guides with activity ideas accompany educational videos. Videos are loaned for 1 week. Catalog is on the web or a print is available too. From pre-school level to adult. If you watch videos and have a listening impairment, don't miss this resource for homeschooling!
Harris Communications
1-800-825-6758 voice
1-800-825-9187 TTY
Has the largest catalog of deaf-related products you can find.
Perspectives in Education and Deafness
by Pre-College National Mission Programs of Gaulladet University. This special issue focuses on "reading and writing programs for deaf and hard of hearing students"
This can be applied to hearing students as well. Nine major components to a good literacy program are discussed in detail. If you are wondering if you are covering all the bases or if there's something more you should be doing to help your child, this could be your answer. Call Perspectives at
1-800-526-9105 (V-TTY)