What Can Be Gained Through Heartache?
by Lynnette Kraft
Editor's Note: Losing one child is enough to knock anyone off of their rocker, but three?
Lynnette details the story of how the Lord has given, taken away and carried them
through the sorrows and joys.
It seems like a lifetime ago, but there was a time when I was a self-centered, materialistic, newlywed. I thought too often of my career, my clothes, my future dream home, and all the other things in life that donít give a person true joy. I didnít know Jesus and I didnít realize just what kind of life I was missing out on. I was lost and on my way to an unhappy marriage and ultimately an unfulfilling life.
God began to intervene. In January of 1990, I found out I was pregnant. It wasnít a planned pregnancy, in fact I was still on the birth control pill, but God was beginning to do a work in our lives and his plans would supersede ours. My husband and I had talked about having children, but we only discussed what we thought would be the most attractive blend of our featuresÖ his green eyes with my dark hair seemed like the most beautiful combination for our future child. I think we thought we could place our order.
It was while I was carrying our first son that my husband and I both began to think about our relationships with God. We didnít deny God. We also knew that Jesus died for the salvation of all those that believed on him. However, we were fickle in our faith. It was merely head knowledge and hadnít penetrated our hearts. We discussed what we would teach our son about God and decided we needed to know more, so we began to go to church.
After attending my childhood church for a few weeks and soaking in the word of God, we both became excited about learning more and we both received Jesus as our Lord and Savior. After Jared was born, I became a stay at home mommy and I loved it! God was continuing to grow us up in him and we were excited about growing and serving, but he had much more to teach us!
When Jared was almost a year old we began to think about adding another baby to our family; a brother or sister for Jared. It didnít take long for me to be pregnant with our second baby. The pregnancy was very different and I had a feeling from very early on that something wasnít right, although I couldnít say what. A sonogram at 6 months revealed that our baby had a neural tube defect called anencephaly. We didnít know what that was, but we were told that our baby would not survive. We were devastated, but we knew where to turn. Kyle and I clung to one another and leaned heavily on God and his word.
We had learned some scripture and felt that we were beginning to gain new insight as to Ďwhoí our Savior was and what his character was like, but during the three months of carrying a baby that we knew would die, we began to seek comfort and understanding with more fervor. We opened the word of God, hurting, but also excited to see what new insight we would gain. It was a somber but exhilarating time in our lives.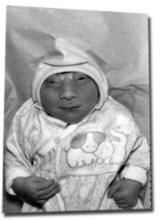 When Samuel was born, we shared him with our family and friends. We knew his time on earth would be severely limited and we wanted everybody to have the opportunity to meet this child that God would very soon take to be with him. Samuel touched the lives of many people and when he was just thirteen days old, he left us and entered into Godís presence.
We missed our precious baby, but we thanked God for a life that taught us to depend on the God we were learning to adore. We praised God for teaching us to value life and family in a way we hadnít before (Psalm 128:3). We delighted in God for showing us that we are all fearfully and wonderfully made and that before he placed us in the womb, he knew us (Psalm 139:13-18). Samuel was no mistake. He was planned by a sovereign God that uses all situations for our good when we love him (Roman 8:28).
After Samuel died, God blessed us just eleven months later with a healthy and beautiful daughter, Abigail. We had made the decision to let God plan our family since he had proven to us, through his word and our personal experience, that his ways were better than ours. (Psalm 127:1) We had a wonderful time with our baby girl and were very content with life. But God was ready to do some more work to mold us into the vessels that he wanted us to be.
When Abigail was eleven months old, we discovered I was carrying our fourth child. The sonogram revealed a healthy boy, but the night that Josiah was born, it was evident that something was wrong with our nearly nine pound baby. It was obvious that Josiah didnít have anencephaly and that gave us immediate comfort, but after his initial cry and taking in his first breath, Josiah was not able to breathe. He was immediately taken away to NICU. My husband, Kyle, followed. I didnít worry too much because there was nothing visibly wrong with him. I comforted myself by thinking that he just had some fluid in his lungs, but hours later, he was still in NICU hooked up to a ventilator. We hadnít been told yet what was wrong.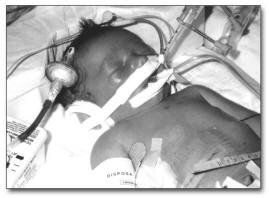 Nearly five hours later a doctor finally came in and told us what we didnít want to hear, ďYour baby is very sick.Ē Kyle listened to the doctor while I just stared out the window in disbelief. How could we be dealing with yet another problem unrelated to Samuelís? It just didnít make sense. We were told that Josiah had a diaphragmatic hernia and may or may not survive. If he did survive, he would most likely live a normal and healthy life.
Josiah had good days and bad, but after just five days, God took him to heaven. We would have to suffer heartache again. My heart was heavy, but my spirit told me that God would not leave us or forsake us. Just as he had helped us through our previous loss, he would also help us through this.
Because it wasnít a pre-diagnosed problem, I was less prepared and the days following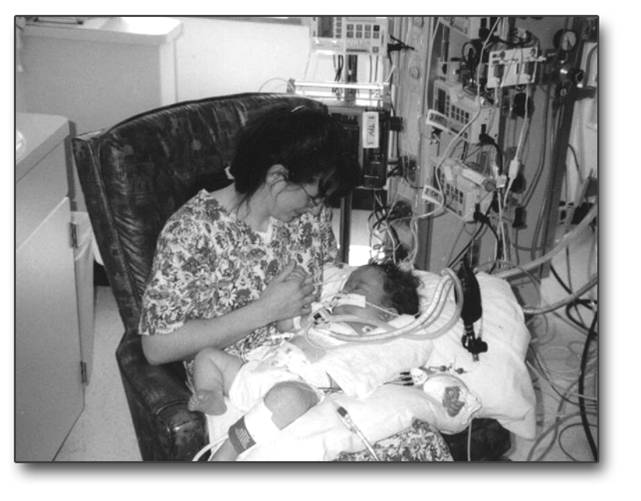 Josiahís death were difficult. I felt a deep sadness, but that all began to change when a friend of mine came over one day and turned my thoughts around and made me view my trial with a new perspective. She told me to picture the Lord asking me if I was willing to accept a new trial for his glory. Was I willing to hurt in order to draw eyes and hearts toward Jesus? Was I willing to do Godís work and suffer because he needed me to? When I looked at it that way, it gave me strength. Rather than feeling like a weak and hurting mommy, I began to feel like an honored soldier; somebody willing to suffer for the better good. It pulled me out of my despair. I would miss Josiah and look forward to being with him again one day, but for now I would carry on and continue to walk alongside my Savior.
That might make a great ending to my story, but the story continuesÖ
After Josiah came my sweet little Cecily. A healthy and very contented little girl! Unique challenges came with her, but not the heartache. Cecily was healthy until she was about nine months old. She came down with something that was never diagnosed, but the symptoms pointed to whooping cough. She would have attacks in the night and would stop breathing. After vomiting very thick and sticky mucous, she would begin to breathe again. It was terribly scary. It took her weeks to recover completely and it was following this illness that she changed. She began to be distant and I felt she began to look right through me. She had been very content as a young baby, but now she just wanted to do her own thing with no boundaries and she disobeyed over and over again. No matter how consistent I was in teaching, training and disciplining, she just didnít seem to learn.
She struggled most between the ages of one and three and made improvement year by year beyond that. She is eleven now and has overcome many of her issues, but continues to be quite challenged in many areas of learning. Iíve found that a non-accusing, patient and understanding heart is what is needed with her. It helps to realize that her problems in learning and behavior have not been because of rebellion but because of something that she cannot help. Iíve tried to focus on building in one area at a time rather than too many subjects all at once and this helps her to be successful at something and feel good rather than feel like a failure at everything. We are becoming victorious and things are beginning to click with her. Weíve used some neurodevelopmental exercises to attempt to trigger things in the brain that were perhaps never ďturned onĒ. These have made a difference. Iíve also discovered that repeating things until they click, and not over stimulating her brain all at once if sheís not getting it, are helpful. We can always come back to it! Active, exciting learning times are most beneficial, and daily success is critical. Iím not perfect and admittedly I donít always have patience, but I plan to become victorious over my weakness through much devoted prayer. I know that God will give us both victory!
When Cecily was two years old, another beautiful daughter was added to our family. Anna was diagnosed in the womb with heterotaxy and congenital heart defects, including single ventricle, coarctation of the aorta, total anomalous pulmonary venous return and other related heart problems. When we were given this diagnosis, we couldnít believe it. Yet a third and unrelated problem! While Samuel and Josiah both died shortly after birth, there was more hope for Anna. We were told that with a few surgeries, Anna could survive and do well.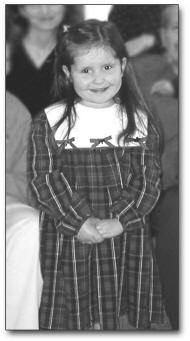 When Anna was just a few hours old she and her daddy flew to Childrenís Mercy Hospital in Kansas City, MO. My parents took me and our other children to K.C.. Anna had her first Ďclosed heartí surgery when she was just three days old. It went very well and we returned home when she was ten days old.
We moved to the country when Anna was a baby. We felt that the fresh air would be good for her health. We got cats, a dog, Nubian dairy goats, and chickens. We had a great time and enjoyed our new life with a fragile baby and lots of fresh air and fresh foods to keep the family healthy.
When Anna was nine months old she went in for her first big and scary open heart surgery Ė the hemi-fontan. This surgery didnít have the same outcome as the first. It seemed to go well, but when the surgeon took the ventilator off of Anna, she went into respiratory arrest and would have died had they not resuscitated her. She barely clung to life for over a week, and when she was not so fragile, another heart catheterization was performed to try to figure out what went wrong. When it was discovered that her veins had become obstructed following the previous surgery, they decided to go back in the following day to repair them. This surgery would be her only hope.
I remember reading the Psalm for that day which was Psalm 21. Referring to God delivering David and giving him strength, Psalm 21:2 says, ďThou hast given him his heart's desire, and hast not withholden the request of his lipsĒ. I hoped and prayed that God would give me my heartís desire and would not withhold my request for Anna to come through the surgery well and be able to return home with us. God did just that. Anna did come through her surgery and after three long weeks in the hospital finally got to go back to her home in the country with her brother and two sisters.
The next five years were peaceful. God didnít allow many trials. Our health was good, our home was happy, and two new healthy boys, Silas and Jonas, were added to our home. God had brought us unhealthy babies with every even numbered child in the past (numbers two, four and six), but Jonas was baby number eight and he was healthy. We didnít know if there was any real pattern, but we half expected number eight to have some health issue. He didnít and we were grateful!
Annaís long-term prognosis was unknown. The medical books said that children with heterotaxy and heart defects werenít expected to live very long, but her doctors changed their diagnosis every time they saw her. We were told she could live ďtwo yearsĒ to ďdecadesĒ. So, we just determined to not think about it. What is life if you worry through every day? No, we would see Anna in our future. We couldnít survive any other way.
When Anna was a baby, we prayed for her heart problems to go away, but as she got older, we began to pray for Godís strength for her and for us, and we quit asking God to take her heart problems away. We wanted to teach Anna to be content with the way that God created her. He knew what he was doing and had a purpose for his design. She needed to know that we loved and adored her just the way she was and that she was not a reject. The term ďbirth defectĒ has always bothered me because when we think of something defective, we think of something inadequate or weak. Anna was certainly NOT that! God used her heart problems to make her stronger in many ways, and to help her see her need for him. She was an incredible young lady and truly lacked nothing in character, love or beauty.
Anna grew into a smart, witty and beautiful little girl. She had a huge vocabulary at a very young age. When she was barely two years old, we went to a friendís house for fellowship. Usually Jared or Abigail would unbuckle her car-seat. When I realized she hadnít popped out of her seat I said, ďAnna whatís taking you?Ē She said, ďI canít get this contwapshun to workĒ! It was so funny! As she got older she loved to mother her little brothers. When Silas was being ornery sheíd firmly say, ďSilas John!Ē She made us laugh often. She was just a huge blessing to each member of the family.
When she was almost six years old, Anna accepted Jesus Christ as her Savior and was baptized by her daddy. In August, Annaís health began to deteriorate. On November 19th, 2004, Anna breathed her last breath at home in her mommyís and daddyís bed. There were signs of a failing heart, but nothing could have prepared us for that day. How can you ever be ready for your precious child to die? You canít. However, in the midst of all the pain, God was faithful! (I Cor. 1:9) Iíve never felt his presence so strong. Iíve never felt his love so great. He walked beside each of us along a very sorrowful path. I can tell story after story of things the Lord did to give us hope.
Watching my children suffer heartache was worse than suffering my own heartache. But that is how it is with God, too. He isnít happy about our suffering. He hurts with us and for us. That is why he is ever so near to us through those times. He will not let us hurt without his loving arms around us and without a purpose behind it. He will not let us suffer without hope. He will not leave us comfortless. (John 14:18) Iím so thankful for my heartache, because ďIím confident of this very thing, that he which hath begun a good work in me will perform it until the day of Jesus Christ.Ē (Phil. 1:6)
Iíve since given birth to another precious and healthy son, Harrison, and I find myself satisfied, completely and utterly satisfied. Why? Because Iíve lost and Iíve gained. Iíve suffered and Iíve recovered. Iíve mourned and Iíve laughed. Iíve learned to be content. If Harrison would have been born unhealthy, I would have hurt, but because of my trials, I would have been able to endure the affliction with more confidence. I would have known how to survive. Through our suffering we gain patience, experience and hope (Romans 5:4).
Trials and afflictions (that are not sin trials) are not the enemy, they are Godís way of teaching us and we should be grateful for the opportunity to learn to serve him and minister to others because of them (II Cor. 1:4). Last year I completed a book that tells our story in more detail. Iím in the process of looking at options for publishing. I think about what my life would be like, had I not experienced these trials. Iím so happy to have a story to tell; a story that can not only help others who are hurting, but a story that reveals Godís character through the way he cared for me and my family down our road of challenge, heartache and victory. Itís an exciting life to walk with God, a life Iím excited to share with others. I leave you with a couple of my favorite verses: Psalm 119:75 ďI know, O LORD, that thy judgments are right, and that thou in faithfulness hast afflicted me.Ē Psalm 119:67 ďBefore I was afflicted I went astray, but now have I kept thy word.Ē What a privilege to be used of God Ė even to suffer for his glory!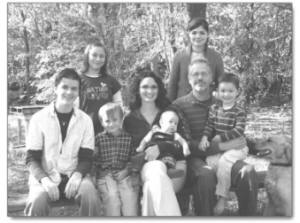 Lynnette Kraft, Sedgwick, KS
growingthruaffliction@yahoo.com

Wife to Kyle and Home-Schooling Mom to:
Jared 17, Abigail 14, Cecily 11, Silas 6, Jonas 4, Harrison 2 months and three children with Jesus (Samuel, Josiah and Anna)