Our Kids Can Do Anything!
by Barbara Lautzenheiser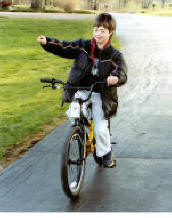 Yep! Our Kids can do anything! That is what I wrote about the picture of my son Chad,
riding on his bicycle with one hand. That is one of many tricks that he does on his bicycle.
Here is my story.
Psalm 139:13-18
"For Thou didst form my inward parts; Thou didst weave me in my mother's womb. I will give thanks to Thee, for I am fearfully and wonderfully made;

Wonderful are Thy works, and my soul knows it very well.

My frame was not hidden from Thee, when I was made in secret,

and skillfully wrought in the depths of the earth.

Thine eyes have seen my unformed substance;

And in Thy book they were all written, The days that were ordained for me,

When as yet there were not one of them.

How precious also are Thy thoughts to me, O God! How vast is the sum of them! If I should count them, they would outnumber the sand. When I awake, I am still with Thee."
Contrast God's word with the advice our baby doctor had given to Bruce and I upon discovering that my lab results showed a real good chance of us delivering a baby with D.S.:
1). Lab work is not always reliable and our baby could be born without a handicap.
2). Your baby would have D.S. but support is available and there are families who do not see handicaps as a problem.
3). Abortion - Although we will not perform one (then why mention it).
4). Amniocentesis and\or genetic counseling.
I wondered how much of this medical advice was out of concern for Bruce and I and how much was being given to us to avoid medical malpractice? How can anyonein a professional practice dare to mention abortion as a solution to anything? What was the problem here in the first place?
Pregnancy, with all its challenges, should be a time of joy and encouragement in a woman's life. (Let me hasten to add that I did respect my doctors.) CHASK is a lighthouse of hope across America for every expectant parent who is told the lie about abortion.
I was concerned about the possibility of having a child with a disability.
Regrettably, my concerns were more about my fears about raising a child with a disability than for my child. After two weeks of treading through a full range of emotions, it was time to snap out of the fog. It was time to bring every thought captive to the obedience of Jesus Christ my Savior. It was time to apply the Word of God to yet another chapter in the book of my life. Our conclusion is that every child God gives to me is a gift and reward from Him. Children are perfect gifts coming down from the Father of lights from whom are no variables or shadows of turning. It was time to trust my Savior. My joy was returning.
The wonderful moment had come. I trained myself to have a drug free delivery (if at all possible). The entire birthing floor at the hospital was impressed that I knew my ordinal numbers up to 10. I got my wish and Chad arrived without any complications—-(unless you count the fact that Bruce had broken his foot from being thrown from my horse minutes prior to me experiencing birth pangs).
So while I was busy counting out loud (wanted to make sure Chad knew his numbers when he arrived...ha, ha) Bruce was in E.R. getting his foot bandaged. He was wheeled into my room just in time for Chad's arrival.
We should have named him "son of laughter". Our son was healthy. The doctors were very supportive. Chad had an atrial septal defect that is common with D.S. children that has closed in time.
I read that 80 to 90% of pregnancies diagnosed with D.S. are terminated through abortion. For anyone who views our children as anything but custom designed by God (perhaps too low functioning to give birth to) let me tell you that God is the one who gives life. May I share with you the following?
Chad speaks with reasonable clarity (crystal clear when mad). He writes and colors notes, cards and pictures. He is a fluent reader (need I say we love books). He is learning math. He types wonderfully. Adores music (sings loud to Jesus).
Athletically he runs track, jumps on a trampoline, races on a hoppy-ball, swings, swims, plays baseball, basketball, rides his bike for miles on the trails, drives a 4-wheeler by himself and horseback rides.
Sounds like a typical boy to me. Chad is now nine. His strength has always been athletics. It is his mom and dad's strong point, too. He has accomplished some things a whole lot earlier than others but doesn't that sound like everyone?
Everything has a season to it. I am learning not to force things before my son is ready for it. I think introduction and brevity would fit his learning style the best.
His older brother Joe (11) has been a tremendous mentor in Chad's life. One of my biggest fears was if Chad would be able to play with Joe. Ahem! Did I actually think that? What a laugh. They are the best of friends. Joe is his hero.
An acquaintance of mine is limiting the size of her family because she said her child was requiring a lot of her time and energy. Please don't limit the size of your family due to having a child with a disability. Increase it! Chad is blossoming because of his brother and younger sister (Erin 4).
In the early years of Chad's life I became out of balance by putting too much emphasis on his developmental accomplishments, making myself a slave to certain programs I was using at the time. Regrettably I started viewing my son as a project. I knew something had to change real quick. I decided to play more with him. Joy was returning.
Bruce and I home educate our children so we had a lot more flexibility in this area. Remember, our children are blessings from God and His load is light. Check yourself on this one.
My special needs boy requires a lot of repetition and patience from his dad and I to accomplish a goal, and the beauty of this is that so do we, especially from our Father in heaven who would have us walk more in the Spirit and less in the flesh.
Speaking of patience, Chad's preferred mode of personality is silliness. Bruce and I recently hauled our children and two neighbor boys with tools back to our woods with our 4-wheeler to cut more walking\riding trails. After two hours of hard work we decided to pack it up and head home (which wasn't exactly close by any stretch of the imagination) for some much needed food and water….O.K… so I should have anticipated the need and packed these in the trailer. One more thing to do; lets just go! Upon returning to the 4-wheeler I noticed our son looking around on the ground. Unsuspecting, I reached for the keys only to find out that a certain young man had taken them and had forgotten where he had hidden them. To make a long story short, we sent Dad home to get the spare key only to return with a wire to hot-wire the ignition. No keys to be had anywhere! Chad had a GREAT TIME!
We have since spent (wish I could say invested) many more hours rootin' around in the woods with rakes and rented metal detectors bound and determined to find that which was lost. I did say our kids can do anything, didn't I? My oldest son has always been quick to remind his parents to always abundantly praise the Lord in situations like these. We have not found the keys-yet! But we know who owns the key to our hearts and we will PRAISE HIM ABUNDANTLY!