Rebecca...One of CHASK's Happily Ever After Stories…
By Kathy Hildebrand
NATHHAN / CHASK Editor's note: Many of you may remember a CHASK family that shared a very inspiring story a couple years ago about their adoptive adventure with a Chinese family and their baby girl, Lynn. On August 24, 2005 they got a call from CHASK about a little 5-month-old, Chinese girl living in Maryland. She had a cleft lip and palate. She had already had open heart surgery and she was born with a chromosome abnormality that was very rare. She would probably have some retardation and possible small limbs.
Her parents were Buddhist/Darwinist , who were adamantly not Christian. Over the next few months, the Hildebrand family went on a roller coaster ride, as Lyn's birth parents overcame huge cultural hurdles, and in the end, chose to parent their little girl.
They came and got her from Hildebrand's home, after a time of heart-wrenching and soul-searching, trying to figure out if they could, in fact, love and raise their baby.
As a result of the Hildebrand's love for them and for their daughter, this family started taking a good look at Jesus and what being a Christian meant, even crying out to God for help.
After Lyn left, Kathy shared, "The days that followed were similar to what I believe we would have experienced with a death in the family. Emotions ran high and the tears flowed often. We prayed a lot and asked God to take care of our daughter, the boys' sister, and to give us a peace about everything that happened. About a week and a half later we got a Christmas card from them thanking us for all that we did and telling us they had attended the church we told them about. They said they enjoyed it very much."
Letting this little girl go was one of the most difficult things for Kathy and Chip and their 3 sons. Yet, in the midst of their sorrow, God was already planning a very special reward… Rebecca.
Here is Kathy's story….
After Lyn left on December 1st, 2005, our family resolved to keep serving Jesus.
We got a call from CHASK 3 years ago on April 12, 2006. We were told there was a baby boy in Las Vegas, NV who needed a home. He had Spina Bifida, Hydrocephally and club feet but little else was known. I immediately called my husband, Chip, at work and we began to pray. We had our hearts set on a baby girl...we have 3 boys already... but we really felt strongly that the Lord was leading us to this little baby in Las Vegas. We decided to step out in faith and know that the Lord knows what it best and if this little guy was supposed to be ours, He would work out all the details. After all, we know boys and He knows what is best. We asked Sherry to send our bio to the birth mom and we continued to pray for God's will...whatever that might be. A few days later, We got a call from CHASK telling us that there had been a miscommunication and the baby in Las Vegas was a baby girl. I knew from that moment on that that little girl was meant to be our daughter.
As time went on, the birth mom chose us to be her daughter's adoptive parents. We could not get out there fast enough. When we arrived in Las Vegas, Rebecca was pretty sick. Her spine ruptured during birth and the surgeon was not a pediatric neurosurgeon. ( The nicest way I can say that he made a mess of her back ). In reading the medical reports from the surgeon, it was clear that he was not in favor of closing her spine. He was encouraging the birth mom to let her die. He told her she would never be a successfully functioning member of society. She would never talk or walk and future complications were a strong possibility.
My God is such an amazing God. This was the birth mom's second pregnancy. The first one was terminated in the first trimester. She did not know she was pregnant with this one until the 3rd trimester. She was all alone, no mom, sister, friend, husband or boyfriend. The only person who was there for her was the agent from the adoption agency (who was truly wonderful but really could not advise her). The original adoptive parents from the agency had backed out as soon as they heard the baby had Spina bifida. And now the Doctors were encouraging her to let the baby die.
She chose Life!!!! That is my Lord!!!
She signed all the papers necessary for Rebecca to receive all the care that she would need and she walked away following the birth. I have always said that, that is just a different kind of love. We thank God for her and pray for her salvation every day. We know that God gave her the strength and courage to make the right decision in spite of all those discouraging voices around her.
When we arrived in Las Vegas, Rebecca was in neo-natal intensive care. Her spine was closed and they had placed a shunt in her head. All I wanted to do was to take her back to Pittsburgh to Children's Hospital. She was not receiving the kind of care that she needed in Las Vegas. They allowed her to sit in her bowel so long that she had a quarter size sore that was enflamed and bleeding on her bottom surrounding her anus. When I asked them to leave the diaper off so the wound could air the nurses told me that they had 6 babies to care for and no time to clean up that mess. I,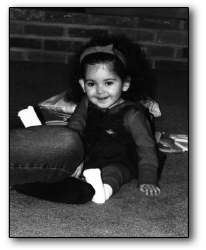 of course, told them that I would clean up the mess. They told me, "That is what you get when you keep them alive." I was not allowed to stay overnight and would return in the morning to find the diaper full and overflowing with bowel up over the incision on her back. We began to do anything and everything we could think of to get her out of the hospital in Nevada. After about 3 days they let us take her to a Ronald McDonald House (who were wonderful to us) so we could begin the adoption process. The neurosurgeon never bothered to speak with us or come to give us discharge instructions when we left. He is the same surgeon that placed her shunt. It failed before we arrived home in Pittsburgh and they immediately did a shunt revision which has been fine ever since.
It was a rough start for Rebecca but she has just blossomed here in PA. We are so very proud of her and she is so very loved. She really does have a special quality that we can not put words to, but anyone who has come into contact with her in any way just falls in love with her. She does not walk yet but we continue to work on it. Her lack of mobility has slowed her progress developmentally but she is very smart and she will start in the Head Start program with normally functioning children in September. She will have an aide for mobility and toileting.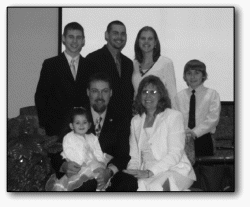 Her doctors in Pittsburgh are amazed at her progress. When we got her to Pittsburgh the Orthopedic doctor said that both her hips were dislocated, something that Las Vegas never mentioned. He put her in a full body brace for 6 weeks. He said if it did not work in 6 weeks, it would not work. In 6 weeks only one hip was in place and not the other. When we went back at 3 months....both hips were in place. He still marvels about that every time we go. We keep telling him that is the power of prayer.
Rebecca has given us the opportunity to share God's plan and God's will for our lives, time and time again. We are so very honored that God has allowed us to be a part of this plan. How he has blessed us!!!!!!